Subscribe
Poetry

6th April 2022
Poetry
4 minutes read
On The Way To Magadan
translated by Ágnes Márton
6th April 2022
4 minutes read
I'm wondering how far one's desires
can be from another's.
Aren't you interested, mister?
You just laugh, oblivious
to the distance to Magadan.
What if we had gone
anyway?
I would be watching the ice,
you'd be watching the endlessness,
this is how we would be mirrored
in that flat-frozen
Siberia.
Isn't it how we exist?
I'm stock-still
and you seem to be infinite.
We would step on the ice
of Lake Baikal
so that we could listen
how it cracks.
We could've lived
a much happier life,
no matter how short.
It's the most
hideous thing,
isn't it?
You can't tear or flake
yourself off,
you'll still be attached
to this rotting world.
You'd be holding my hand,
I would kiss your mouth.
We could've coped
quite happily
without the world
around.
It was a short while, I spent it
on running away from you,
waiting, looking back:
would you catch up?
Your long legs
are difficult to overcome.
So is, mister, to look into
your light eyes.
While you walk down the street,
you draw the shadows
behind you.
All of them.
See, eventually
I took to you.
I was fighting but to no avail.
True, you've seen war, much of it,
you are aware
how many moves
a capitulation must consist of.
One can be extremely smart,
a sharp word shot towards a good cause
always hulls.
And you fired upon me, mister.
A whole volley,
a cheerfully singing fire-squad
was hidden in your chest.
Now I'm wearing lacy holes.
Here we are,
on the shore of Lake Baikal,
on the way to Magadan.
You're watching me, inviting me
to join you,
and I don't dare step on the ice.
It's almost whistling
while cracking under you.
The pain you have to carry
can earn you your real weight.
Everything could be crashed
if we both stepped
on the crackling ice of Lake Baikal
hand in hand.
For months, you didn't give me time,
and now, with a smile, you ask me
to step on the ice, you're waiting for me.
Well, waiting, not for an eternity,
but I should step, you don't mind how slow.
I could've told you
how I fancied you:
I liked your blond beard, the way
you went grey, how lean you were.
And how odd, a light, thin
body can leave such deep traces.
Drops of rain add up
in your footprints.
See, there's mud and puddles
here, in my chest.
They say, a path is trodden in us
by many people.
I know it's a long way to Magadan.
I'm breathless already.
Every dawn tries to break
my neck,
every night casts me off
and I keep skipping to avoid
the leaks of sharded time:
life is thin, even if we dance, mister,
finally every foot steps into ice-cold water,
and finds the way home.
I'm obstinate, watching you,
your face, your never-ending
laughter.
Hey, what's the use of the heart
torn out of me?
What can you do with it at home?
Shred it with sharp knives?
Cut lacy holes in it
and put it in the window?
Or would it be lost
in the clutter of your searched-through flat
in-between scattered sheets of paper?
How beautiful. Right.
You know it's fine like this.
At least an undetected piece of me
stays there
and accompanies you
wherever you go.
MORE FROM THE AUTHOR
Poetry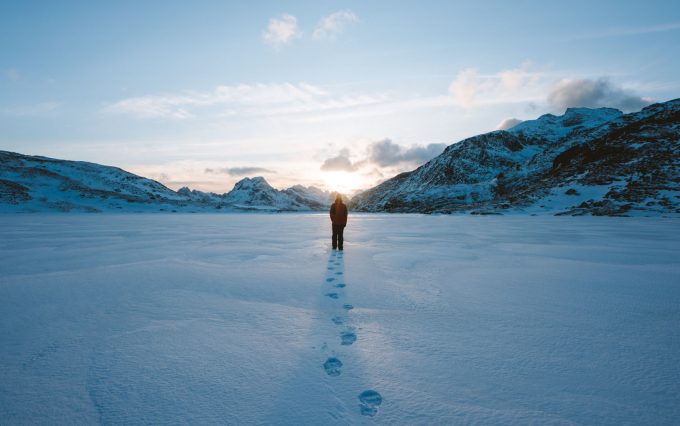 On The Way To Magadan
by Anna Terék
In the brilliant translation of Ágnes Marton, Anna Terék's poem about longing, heartbreaks, and tragedies on the way to our mysterious destination, Magadan.
Poetry
Black Snow
by Anna Terék
An alcoholic father is drafted during the Yugoslav war, in a poem by Hungarian poet Anna Terék, translated by Belarussian poet Valzhyna Mort with Owen Good.